The Walking Dead No Man's Land
2.3.1.3
Zombie Game – Can You Survive the Zombie Apocalypse?
The Walking Dead is one of the most popular TV series in the world at the moment. If you are a fan of this hit show then you will find this zombie game to your liking. The Walking Dead No Man's Land is a fun game in which you get to play with your favorite characters from The Walking Dead show. It allows you to fight the walkers in a fierce battle for survival. To help you in this quest of yours, you will be provided with weapons that can defeat the walkers in one-on-one combat. Do keep in mind that this game is very resource-heavy. You need to have ample space available on your device in order to download it.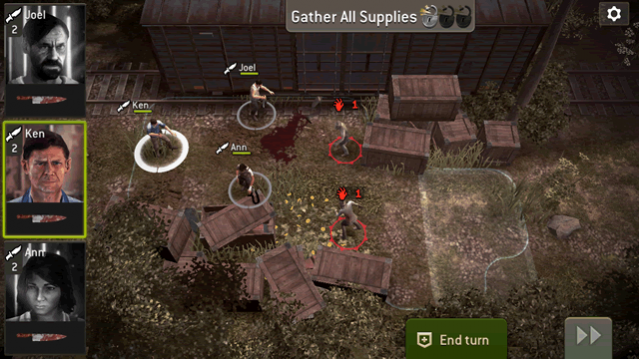 The Walking Dead No Man's Land has addictive gameplay which is largely due to its turn-based combat system. You and the walkers get turns to attack each other. So, the battles between you and the walkers are of a tactical nature and require astute use of strategy. You have to decide how to use your turns so that you can do the most damage to the walkers while keeping your team safe. Make a mistake and you will hand over the advantage to your enemies. In addition to tactics, you also need to regularly train and upgrade the weapons of your team members too. If your team comprises of weaker characters or you do not have powerful weapons then the walkers will easily overpower you.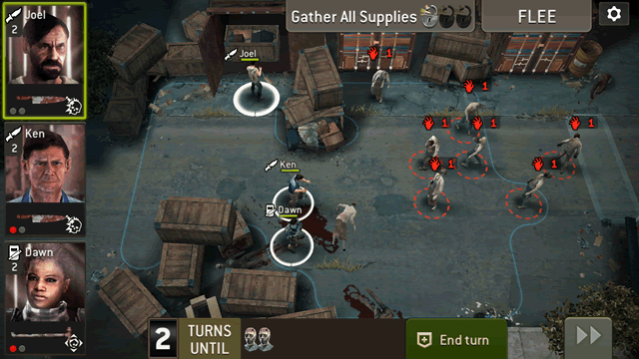 In this zombie game, you will get to play multiple game modes. Most of these game modes are locked at the beginning but can be unlocked by completing certain objectives. For instance, the official 'The Walking Dead' content can be unlocked by completing all the missions of the first chapter. Other game modes can be unlocked by increasing your level or by upgrading your council. These game modes include Scavenge mode, Challenge mode and Guild Wars among others. In the Scavenge mode, you get to hunt for supplies and weapons while in Challenge mode, you get to fight other online players. The Guild Wars mode is where you can participate in battles with other guilds. Do remember that you need to join a guild in order to play this mode.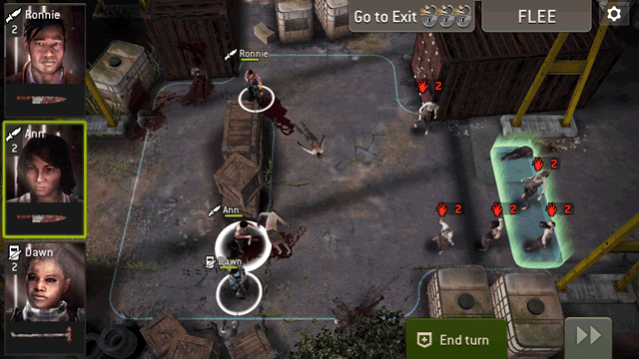 The Walking Dead No Man's Land allows you to meet up and play with all your favorite characters from the show. Each character has been given some special abilities and weapons of choice. You can train them at the Training Grounds in your camp and make them stronger. Moreover, you can hunt for powerful weapons in the Scavenge mode and equip them to your characters to give them more striking power. There is a radio call available which can help you in summoning new survivors to the camp. These survivors can be made a part of the team too and can fight alongside the other heroes in battling the walkers.
Features:
Multiple game modes
Complete chapters comprising of various missions
Earn special rewards by completing Daily Quests
Hunt for weapons and special items in Scavenge mode
Play official 'The Walking Dead' content
Join guilds and participate in Guild Wars
Play with various popular characters from the show
Equip the characters with powerful weapons
Train your characters to make them stronger
Construct various buildings at the camp
Make radio calls for summoning other survivors
Conclusion:
The Walking Dead No Man's Land is a gaming app which is marketed towards fans of the AMC hit series, 'The Walking Dead'. It lets you form teams comprising of the various characters of the show and fight the walkers in different locations that are shown in the series. It is a zombie game worth having on your phone no matter if you like the show or not.
---
Add a review
Tell us your experience with
The Walking Dead No Man's Land
2.3.1.3
RELATED PROGRAMS
Our Recommendations
---
---
---
---